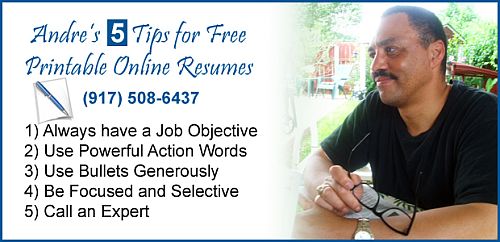 Resume Maker
Your Resume Maker -- Andre, wants to hear from you. Everything you may need for resume ideas, is at your fingertips with eResumes4Vips. Yet, some may want or need a Professional-Resume-Maker.


Professional Resume Writers offer invaluable help for Waitresses, Executives, Bartenders, and College students.
Although the resume writing process appears magically, I, like other Resume Wizards, simply custom-craft resumes the old fashioned way...One at a time.

Let the eResumes4Vips, Resume Wizard,
Perform Magic for Your Job Search
Looking for a job? Get the Last Job Search Guide You'll Ever Need for Free!
Guard Your Resume and Personal Information
More Resume Help
Resume Maker to Home Page