Resume Wizard
Resume Wizard Andre, Performing
Magic for Your Job Search...
A Professional Resume-Wizard offers invaluable help for Waitresses, Executives, Bartenders, and College students.
Although the resume builder process appears magically, I, like any other Resume-Wizard, simply custom-craft resumes the old fashioned way...One at a time.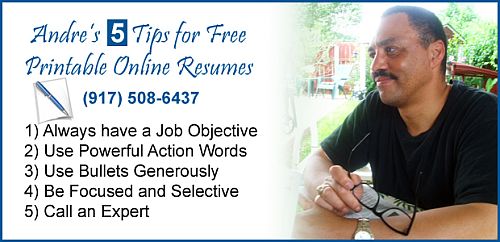 ---
What Other Visitors Have Said
Click below to see contributions from other visitors to this page...

The Way Back Home Not rated yet
I just returned to Texas after a business/personal excursion to my birthplace in Virginia and New Jersey. Ironically, up until 2009, I hadn't visited Virginia …
Blog to the World about Your favorite resume wizard story, career challenge, or anything of interest. Click here to go to the Your Story submission page to really...

Get the Free eResumes4Vips e-Newsletter Subscription and Job Handbook. Review Back issues of The eResumes4Vips Career & Life Newsletter eZine
---
Professional Resume Bio for eResumes4Vips
eResumes4Vips is just as it sounds...Resumes For You. You are my VIPS. Resume making can be confusing and stressful. Further, many writers will do a really nice package with fancy typeset.
Employers don't read resumes...they scan them. It's not about the color of the paper, typeset font, nor the format...Come closer, here are the secrets:
Does Your resume match the Job Description?
Does your Resume provide the KSAs that the Employer is asking for?
--Knowledge, Skills, Abilities--
Cracking the Code
Any Decent Resume wizard knows the combination to the safe...cracking the code. Job search, interviewing, salary negotiation...its boils downs down to two things:
Marketing & Selling
*Marketing: Telling Your story. Making sure that people know about you and the KSAs you bring to the table.
*Selling: Persuading, offering, encouraging employers to pay attention to your story. Giving you the opportunity to compete for the job.
Believe it or not, it comes down to one thing and one thing only. Oprah Winfrey said it best. "When Opportunity meets Preparation...LUCK".
I'm not really concerned with your having the most perfect-resume. My goal is quite simple; that is to prepare and to help you to capture interviews. That is what Resume-Wizards do for their clients.
Resume Wizard Testimonials
"Andre is detail oriented. With Andre's help I was able to capitalize on his expertise."— Celia George
"Andre is a detail-oriented worker who has great experience and expertise. His leadership skills are impeccable. He is a hard worker who is willing to go the extra mile to get the job done.
Andre is both dependable and a man of great integrity and character. He is a professional with incredible personality and genuine love for people.
He is a team player who works well with others. I highly recommend Andre to your organization."— Heath Peloquin


"I wanted a great resume for my career endeavors, he has been writing resumes for me for over 5 years, and I always get the job! His work WILL get employers to call you. 100% satisfaction." — Marcello M.


"I have been inspired to work on my linked in page because of the connection with Andre. I would recommend him for resume services to improve your professional career documentation." — Desiree Richardson

"Great site for writing any resume! Check it out, you will love the help you get!" September 12, 2008
--Diane, F; University Trainer

A Resume Wizard must have a great example of his/her resume...

LinkedIn Resume Example, Resume Wizard VisualCV

Visual CVs, for professionals, can serve different purposes when sharing with friends, colleagues, clients, prospects, the Internet, and Recruiters or Companies.
Based on your preferences, each version features a unique collection of portfolio items, plus exclusive privacy settings based on your preferences.
Professionals have the option to share a unique URL as a "live" Internet document that includes portfolio items such as work history and samples, salary information, awards, references, certifications, videos/photos and more.
Registration for professionals and companies is
easy and free. Get started today!

Just for Fun!
You've Worked hard with your resume building and job hunt. The Resume Wizard wants you to take a little break... Check out this video of...


Cutting-edge video resume workshops, job hunt tips, and just-4-fun stuff. All fresh, all original, all awesome resume wizard content created and produced by Chief Resume Writer, Andre V. Milteer, M.A.
Learn More about Andre-M.,
The eResumes4Vips Chief Resume Writer,
by visiting LinkedIn and/or Squidoo.
Post a Job! $30 for 30 days
Job searching and working to make a grant writer resume can be quite discouraging. What you may need is a Large and Healthy (yet totally free) dose of Encouragement. Try this, Get Encouraged! to become energized, enlightened, and encouraged...
Tell me what you think about this page information. Share your thoughts, add commentary, critique your resume, and/or share your successes. Follow this link to Tell Your Story>>>

Thinking of Going Back to School?
This work is licensed under a
Creative Commons Attribution-Share Alike 3.0 Unported License
Want to link to the eResumes4Vips website? Simply
copy & paste the following link...you're all set.
"></a>