Sample Attorney Resume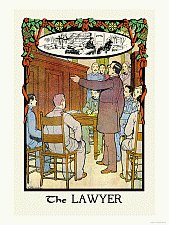 A sample attorney resume comes in all shapes and sizes (as do attorneys themselves). Rather than gives you a general overview, many of you will be targeting a sector of law practice.
The following example offers that a sample attorney resume for a Land Title, Escrow, and Abstract Officer. Not your cup of tea? Title Attorneys are worth their weight in gold.
Still Not convinced? Talk with Any Fool that has purchased real estate without the benefit of a competent and expert Title Attorney. Your Honor. I rest my case...

What Other Visitors Have Said
Click below to see contributions from other visitors to this page...

Social Media, Goal-Setting, and Talking Heads Not rated yet
There is a huge industry buzz on whether or not Social Media Networking is useful for business development, career transition and job search, or simply …
A Perfectly Good
Title Attorney Resume Sample
Eric Holder

616 Ave H
Fort Benning, GA
(917)508-6437
eric.holder@eresumes4vips.com
eResumes4Vips
Objective

Expert and Experienced Paralegal seeking a position as an Escrow, Title, and Abstract Officer


*Professionally prepared and executed in excess of 500 real estate closing transactions

*Generated $85,000 of Title Insurance policy premium within a 36 month period

*State Boards of Real Estate, Insurance, Bank Examiner compliance audit pass rate average of 93% over a 47 month period

*Increased Title agency real estate closing new business by 40% over a 24 month time period


Qualifications

*Licensed Legal Assistant, State of Georgia (USA)

*Completion of 150 hours of Professional Continuing classroom and seminar education training in the areas of probate, land deed research, property taxation, and escrow funding compliance


*Notary Public, State of Georgia


*Licenced Title Insurance Solicitor


Experience


Peachtree Title & Abstract Peachtree, GA

Title Attorney (Paralegal) 07/01/1999-Present


*Examined abstracts of titles, leases, contracts and other legal documents in order to determine ownership of land and gas, oil and mineral rights

*Executed daily operations of Title agency's deed research, legal opinion and precedents, and state codes


*Drafted deeds and affidavits and presented other evidence to meet legal requirements of documents


Office of Official Records, State of Florida, USA
05/15/1995-06/01/1999


*Supervised 7 employees, scheduled work hours, resolved conflicts, and delegated daily work tasks to staff


*Trained new hire personnel in state-mandated record research and custody storage procedures


Education

Tallahassee Junior College Tallahassee, FL
Associate of Arts, (GPA 3.75) August, 1996


Peterson Management Services
Certificate of Completion, 150 hours


References available upon request
---
Resume made with WinWay(c) Resume Deluxe
WinWay(c) Resume Deluxe is the easiest and most complete job-winning system available. With it you can write your sample attorney resume as well as tracking your contacts, write cover letters, and print associated envelopes.
---
Sample Attorney Resume to Legal Secretary Sample

eResumes4Vips Privacy Policy

eResumes4Vips Home Page

^_Top of Page