Georgia Resume from Paul Null - a Former Army Logistics Manager
by Paul Edward Null
(Cartersville, GA, USA )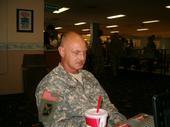 Paul Edward Null
Georgia Resume from Paul Null - a Former Army Logistics Manager


SUMMARY: Senior Logistic Manager with 13 years of Material Management, Leadership, Procurement, and Costumer Service experience.
I managed over $32,8 billion theater property for US ARCENT CFLCC-G-4, and served on the Theater Property Book Team which services over 2000 units in Iraq, Afghanistan and Kuwait; from which I managed over $13.7 million in property to include the Special Forces.
I followed stringent inventory control guidelines; and maintained full accountability for over millions of equipment and assisted with maintaining over $890 Million worth of systems.
MILITARY EXPERIENCE
Dec 83 – Aug 09, Army
Last Rank: SFC
Last Award: Meritorious Service Medal
Unit: 3rd US Army/ARCENT
SECURITY CLEARANCE:
Secret Security Clearance
Date Investigation Completed: 16 Apr 06
Polygraph Date and Type: N/A
MILITARY EDUCATION:
(Leadership Courses)
1. PLDC, 25th Infantry Division, NCO Academy (Schofield Barracks, HI.)
2. BNCOC, NCO Academy (Ft. Lee, VA.)
3. ULLS-S4, Unit Level Logistics System-S4 Course (Ft. Gillem, GA.)
4. AMMO-45-CBT, U.S. Army Defense Ammunition Center (McAlester, OK)
5. Hazmat Familiarization & Safety in Transportation, U.S. Army defense
Ammunition Center (McAlester, OK)
6. Combat Lifesaver Course (Decatur, GA)
7. Property Book Officer PBUSE (Ft. McCoy, WI)
8. Unit Property Book PBUSE (Ft. Bragg, N.C.)
(Military Occupation Specialty / Special Skill Courses)
1. 92Y40 / Unit Logistical Supply Specialist & Property Book Manager (Army)
2. 11B30 / Combat Infantry and Personnel Supervisor (Army)
3. Medium and Light Wheeled Vehicle Operator (Army)
4. Computer Specialist (Army)
5. Army Reserve Maintenance Course (Army)
6. Army Reserve Supply Course (Army)
7. Company Training Course (Army)
8. Hazardous Material Handling Course (Army)
DATES OF MILITARY SERVICE:
2008- Retired from Active Duty (Army)
2007-2008 3rd Army ARCENT Theater Asset Visibility NCOIC (Kuwait)
2001-2007 U.S. Army (AGR) Logistical Supply Specialist / Property Book Manager
1998-2001 Logistical Supply Specialist / Unit Armor (Army Reserve)
1994-1998 Squad leader / Supervisor of 11-Soldiers
1991-1994 Squad leader / Supervisor, Medium Wheeled Vehicle Operator
1984-1991 Combat Infantryman Soldier
COMMUNITY / HUMANITARIAN SERVICE:
1. Assisted at the scene of an accident, rendered aid and comfort to injured party until professional help arrive. Honolulu, HI. 10 July 88
2. Deployed to Haiti to reastablish Peace and Humanitarian Service. 11 Jan. 95 – 04 July 05
3. Deployed to Kuwait for OIF and OEF Service from 11 Mar 02 thru 3 July 02 and 27 Aug 07 thru 15 Aug 08
AWARDS:
1. Meritorious Service Medal
2. Army Commendation Medal with 4 Oak Leaf Clusters
3. Army Achievement Medal with 6 Oak Leaf Clusters
4. Army Good Conduct Medal with 4 Clasps
5. Global War On Terror Expeditionary Medal
6. Global War On Terror Service Medal
7. Humanitarian Service Medal
8. National Defense Service Medal
9. Armed Forces Reserve Medal with M Device
10. Armed Forces Service Medal
REFERENCES Available