Military Resume Writing
Custom Search
A Military Resume Writing assignment is the toughest set of marching orders you have ever received. Hands sweating...heart pumping...mouth dry like a desert vagabond.
As the Chief Writer for eResumes4Vips, my mission is to help you to craft your military-resume-writing task. Also, as a former Non Commissioned Officer, I had to actually write (and re-write) my own army resume, for military to civilian job search.
Ok, Ready-Fire-Aim...
(Former) Military Resume Writing Made Simple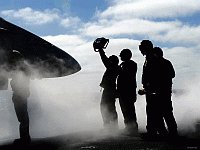 U.S. Navy F-16 Flight Crew
Peter Petraeus, Gen (Ret)
Dallas, TX USA
(917)508-6437
Objective:  Explosive Ordinance Disposal (EOD), Counter-terrorism consultant technician (contractual) position with the ABC Group. Preferred work area, International, with a specificity toward Middle East, Indonesia, and (former) Soviet-bloc Republics.


Hire eResumes4Vips to write your resume
If you rather, I can write your resume for a very small fee. Visit me @Fiverr.

Profile:  EOD and Weapons expert with 10 years of military combat arms experience. Hostile environment operational deployments to Kosovo-Serbia, Iraq, Afghanistan, Kurdistan, Turkey, Somalia, and South America (classified), as well as numerous Top-Secret locales.
Operative profile is in alignment with:
Cultural and Historical populace orientation
Dominant Power Brokers at large (tribal as well insurgent leadership)
Weapon and firepower assessment (inclusive of "homemade weaponry")
Attention to All Soldiers, Sailors, Marines,  Airmen
Salute to:
Experience
Supply Sergeant Company, Boise, ID Jan 2008-Present

Account Executive, Corporate and Internet Sales Division
Departmental sales efforts resulted in an organic annual production increase of 45% versus last year


Consulting Liaison with Department of Defense (DOD) procurement managers


Developed Improvised Explosive Device (IED) prototype. Sales contracts for IED prototype have exceeded $250,000 within 6 months of development delivery to market


Camber Corporation, Worldwide November 2006-December 2007 Warfighter Exercise Simulation Tester


Data collection efforts, 94% accuracy, for 5 battle simulation exercises


Provided Debugging software matrix test feedback to programmers for a cost-savings of $75,000


Organization Project Compliance Officer and DOD, Liaison Coordinator


Joint Warfighter Command Fort Bragg,NC June 1999-June 2005. Numerous (classified) deployments in support of National Interest directives


EOD Field Staff Instructor, Counter-Insurgency (locality classified)
--End of military-resume-writing sample, pt.1--
Weapons Expertise
High expertise with laying primacord between rows of charged blast holes and tied cord into main line to form blast pattern.


Moved, stored and maintained inventories of high grade explosives to include C-4, and remote detonated dynamite


Wrote, designed and produced the (first) field manual (unclassified) of the Iranian-made "Humvee Buster" IED.


Expert Marksman, M-16, 9mm, and M-203 grenade launcher. Earned German Army Schutzenmeister marksmanship badge.
Education
Associates Degree, Fayetteville State University (2000)
Advanced NCO (ANCOC) Course, 11M (1998)
Battle Staff Course, Fort Bliss Texas (1997)
Amphibious Military Operational Training Academy, Little Creek NAB (1996)
Awards
Bronze Star
Meritorious Service Medal
Purple Heart
Kuwait Expeditionary Medal
Navy Commendation Medal
Clearance & Background

Top Secret
Honorable Discharge, US Army (Sep 2005)
DD-Fm 214 (available upon request)
--end of Military Resume Writing Sample--
--A Military-Resume-Writing Sample--a free functional resume publication of eResumes4Vips for the expressed personal use of this website reader visitors. Any other usage must be approved by the author.
The above military resume writing example is fictitious. The template and format are for example purposes only.

How to Get a Gov't job article written and contributed to Wiki-How by the Publisher of eResumes4Vips. Military-Resume-Writing Sample created with Winway Deluxe
Go to Military Resume Cover Letter Page Cover Letter Samples are actually More Important than your resume. Good cover + Good resume = Interview.
The military cover letter samples, like Air-Land-Battle, is your air cover that "softens-up" the enemy prior to the ground assault.

More really stealth armor-piercing 

Military Resume Writing tips
Military-Resume-Writing to Bartender Sample Page:
The Bartender Resume Sample Page is a How-To to show the Manager:
You are Experienced
You are Knowledgeable
You are SAFEty Conscious
You Can Be Trusted!!!
Guard and Protect Your Personal Data & Security
Military Resume Writing to Home Page
Want free site updates instantly? Subscribe via feed and/or email. Click here...
Unauthorized copying without the expressed permission of the site owner is prohibited.

@eResumes4Vips.com | All Rights Reserved | Terms of Service | Site Disclaimer | Privacy Policy