Student Resume
It's TOUGH Earning Your Degree and Advance Your Career...even with a
Knock-Out Student Resume portfolio.
Vocational & Career Schools; The Real Keys to the Vault!
It's no big secret that earning your degree or beefing up your student-resume portfolio could be the best way to boost your earning and advancement potential. As we strive toward becoming a more educated work force, those who invest the most in their student resume and education will fare the best in the career world.
Fortunately, online degrees and flexible campus programs have made earning your degree much easier to manage, even if you work full time and have a family.
Invest in Your Education, Even if You Already Have a Job
Even if you already have a job, investing in your education has its benefits. Launch a new or better career, improve your advancement potential, or earn more money. Just how much more? The results may surprise you.
College Grads Earn Substantially More
According to US Census data released in 2006, the average bachelor's degree holder earns an average of $20 thousand more each year than those with high school diplomas alone.
Those with advanced degrees, such as master's degrees, can expect to do even better, earning nearly $30 thousand more than bachelor's degree holders each year, and a whopping $50 thousand more than high school diploma holders. That means that whichever degree you earn (promptly recorded on your student resume ), your increased salary will likely offset its cost in a short period of time.
While vocational and precision workers typically don't need master's degrees and beyond to remain profitably employed, continuing education and training is a must. As technologies improve, workers must remain on the cutting edge of their crafts in order to compete in the job market.
While up-to-date training can give your student resume a competitive advantage, some fields require ongoing training and certification, making it impossible to find or maintain a job without it.
What Other Visitors Have Said
Click below to see contributions from other visitors to this page...

How do you find the Hidden Secrets of a Successful Student Resume and Job Search. Simple...Check out the eResumes4Vips Resume Writing Tips page.
Everyday Fun & Educational Student-Resource Videos

Need a New Career? Change Course
with a Graduate Degree
--By Gabby Hyman, on assignment with College Grad dotcom
Feeling underpaid or unappreciated? Attention wandering? Perhaps you've discovered skills or career passions that rocket beyond the humdrum routine of your current job. Age or experience shouldn't lock you into a career that no longer suits you. It's never too late to continue your education.
Consider some practical examples of how a graduate degree could help you find your dream job:
Healthcare: Nurses who already hold their two-year RN or four-year nursing degrees may be looking at burnout. Why not move into management or administration by earning either a graduate degree in nursing or an MBA in healthcare management?
Education: Almost anyone with a bachelor's degree in their field can change professions and go into teaching. You'll need to earn a teaching certificate or graduate degree through continuing education programs.
Current teachers who crave leadership roles can get them by earning graduate degrees in education administration--great preparation for moving into administrative and curriculum development jobs at schools or district offices.
Technology: Technology workers with undergraduate computing degrees can compete for corner offices by earning graduate degrees in IT specializations or an MBA degree in business management.
Technologists who tire of cubicle life may also move into well-paid sales and market development roles after continuing their education.
Social Service:
Counseling is one of the fastest-growing
career opportunities in the nation.
No matter your current field, you can pursue a graduate degree in counseling or psychology to qualify for positions in healthcare agencies, community counseling centers, substance abuse centers, or in private practice.
Business: It's no secret that a business degree holder can benefit tremendously from an MBA, but that's just the start of it. Entrepreneurs are also among the high-growth professional groups.
If you love to help people and share your expertise,
consider earning a graduate business degree and opening
your own consulting business. Consultants enjoy a high degree
of autonomy and can earn substantial incomes.
Science and Engineering: If you're a scientist or engineer, advanced degrees can introduce you to the world of research and development, not to mention higher management.
About the Author:
Gabby Hyman has created online strategies and written content for Fortune 500 companies including eToys, GoTo dotcom, Siebel Systems, Microsoft Encarta, Avaya, and Nissan UK.
Continue to surf through eResumes4Vips for more sensational student resume and career builder help and tips! A Resume Template, resume templates, free-resume-template (or by any other name) for Waitress, Preschool Teachers, or Executives, all share common elements. Specifically, a resume template should include...
Yo, Yo, Yo...High School Juniors & Seniors. Check Out This Cool Page Link
Hanna Montana's High-School-Student-Resume Sample

What a tremendous time in your life...But you need a high school student resume -- Whether you are looking to work to buy clothes & luxuries; or to simply help your family...you have to have a high school student resume -- period!

A Magna Cum Laude College-Student-Internship Resume Sample.
A really well written Student Resume for an Internship promotes you into a league of your own. Prospective employers want to see "what you're made of." In many cases, your college-resume ... [more]

Go back to School to Become a Cosmetologist (resume sample); just like Ashlee Simpson did

A Colorful Graphic Design Education Leads to a Creative Job (resume sample)

College Freshman ResumeTips (pdf)

Become a Certified Nurse Asst

After Graduation, Pharmacy Techs Make Bank!!! (resume sample)

Student Resume to Home Page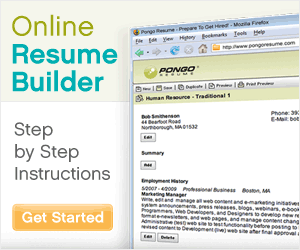 ---
WinWay Resume Deluxe
Last yet not least of eResumes4Vips' Student Resume resource endorsements is the
Winway Resume Deluxe v12
.
WinWay's Resume Wizard takes the guess-work out of how to make a student resume in seconds. Simply choose a profession and fill-in the blanks. Don't start your resume from scratch. Simply enter the job title and let the new Resume Wizard find the closest matches from over 14,000 resume examples.
Go through the wizard steps and fill-in the blanks. Watch your how to make a resume coming to life in front of your very eyes. Customize your resume further by adding specific information about your experience and skills. Winway Resume Deluxe v12 solves your write a resume how plus generates cover letters automatically...also auditing them for errors.

WinWay(c) Resume Deluxe is the easiest and most complete job-winning system available. With it you can write your waitress-resume --track your contacts, write cover letters, and print associated envelopes.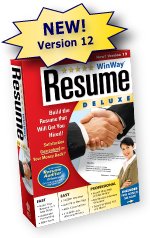 The (c)WinWay Resume Deluxe v.12 Resume Wizard creates your job-winning resume instantly. 14,000+ examples included!
The (c)WinWay Resume Deluxe v.12Letter AutoWriter® writes persuasive cover letters automatically! 400+ letter examples included!
The (c)WinWay Resume Deluxe v.12 comes with a 90-day money-back guarantee. Winway Resume Deluxe v12 Download WinWay Resume Deluxe v.12 instantly. Create your job-winning resume in minutes...