Free Resume Maker
To write a resume - in minutes, try the Free Resume Maker powered by LiveCareer.

Your resume is often your first and only chance to make a great impression on an employer. Managers will scan your resume for just 10 seconds to see if you're right for the job.
That's why your resume needs to be attractive and stand out. It needs to be well-written and highlight your skills to your best advantage.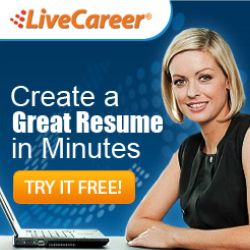 Why is Resume Writing So Difficult?
The problem is most people don't know how to write a great resume and don't have the design skills to make it look professional.
Our Free Resume-Maker (Builder) is designed to make resume-writing fast and easy. We match you with the right template and, in just one click, you can choose a professional design that will help you win the job.
Our unique Text TunerTM allows you to choose from hundreds of expert-written examples - no more writer's block!
Get the "most impressive resume builder on the market today". There's no risk; no obligation. We're so confident that you'll love our resume builder that you can try it for FREE.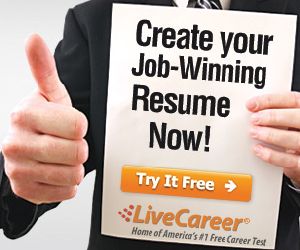 Customer Reviews
What do other resume users say about our free-resume-maker tool?

"I was completely unaware of what companies are looking for in a resume. This product, the LiveCareer Free Resume Maker tool, helped me word and format my professional resume and the examples were extremely useful. Overall, this is a great product. I would highly recommend these services." - A. Danihels
"This resume tool is so much better than templates - just upload or enter your resume content and you get your choice of designs. It's magical! Anyone can benefit from this tool: from students to executives!" - Belinda Yanda 

Free Resume Maker to Home page