MBA Resume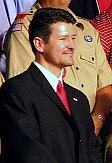 Husband of Fmr AK Gov Sarah Palin
A MBA Resume for a Governing Wealth Manager

Todd Mitchell Palin
5671 Alaska Way
New York, NY
(917)508-6437
TMPalin2008@eresumes4vips.com
eResumes4Vips
--Editor's Note: This MBA Resume Sample, featuring Todd Palin is fictional. It is by no means an actual characterization of an MBA-Resume Sample of the real-life husband of Former U.S. Vice-Presidential Candidate, Sarah Palin.--
Get our free how-to resume writing
guides and tutorials...
MBA Resume + Experience 
Objective: Highly experienced and a "Take-No-Prisoners" Wealth Management Producer with a MBA seeking to expand talent offering via multi-location sales and production growth management within a New York based regional agency.
Profile: Very successful eleven-year Equity-indexed Annuity and Single Premium Life Insurance Producer with a Solid Sales production track record.
Stock broker mba-resume (work) that includes variable asset management as well as both Captive and Independent agency background.
Primary responsibility for growing book of business in excess of $50 million.
Successfully managed financial concierge service for 100 private wealth clients with an assets under management (AUM) value of $75 Million (USD) dollars.
Experience: Merrill Lynch, Wealth Management Producer, Feb 2002-Present.
Business mix is 75% Fixed Annuity, 20% Equity-indexed, 5% Single Premium life insurance.
Awarded Producer of the Quarter for most sales (closed) referrals.
Total accounts, ground-floor-built, exceeds 1,350.
Bear Stearns, Customer Service Office Manager, Oct 2000-Feb 2002.
Serviced a $8,000,000 book of business.
Supervised a 12- broker team office.
Effective cross-sell ratio of 35% additional closed sales within a 24 month period.
AIG, Feb 1996-May 1999, Broker Assistant
Point of Service for all sales, compliance, billing, claims, and cross-sell duties.
Exceptional compliance audit deficiency resolution of 94% within a 36 month cycled period.
Organic sales growth of 65% of book of business over 36 month period.
Education and Licensure
MBA & BFA Degreed, Harvard Business School.
State of New York Department of Insurance,
General Lines License #_____________.
NASD Series 6, 63, 7 licensure.
Hire Me to Write Your Resume
Hello,
This is Andre from dba/AVMWERKS. As the principal resume writer, website publisher, and owner of eResumes4Vips, I have been helping job-seeking clients since 2008. In addition to publishing a successful resume writing website, I have delivered high quality corporate, military, federal service, health care, and retail service employment resumes and portfolios to clients for over a decade.

Please submit your existing resume for editing and revision. Contact me thereafter to discuss pricing. And then, I will send the revised resume back to you.

IF you want your resume published, then I can post to the site (only with your permission),



--Your Privacy will be Guarded; no sharing with 3rd Parties (per our TOS/Privacy site policy)--
What Other Visitors Have Said
Click below to see contributions from other visitors to this page...

--End of MBA-Resume sample--
Some will argue that having a MBA is the entry point for gaining high earning wages, That's true, if you want to work 80 hours per week at a law or financial services firm. 
Yet I do not believe it necessary to spend $300K to chase a MBA degree. Entrepreneurship requires not only book sense knowledge, but also guts and action. What are your thoughts?
Are You Sick & Tired of Pulling Your Hair Out TRYING to Make a FREE Printable MBA-Resume So That Employers Will Call You?

How-To-Make-a-FREE-Printable-Resume...Waitresses, Nurses, Students, and especially busy Executives, need a Great resume that will get their profile past the Hiring Manager's "SMELL TEST! Guard & Protect Your Resume Privacy 

---

Unauthorized copying without the expressed permission of the site owner is prohibited.

@eResumes4Vips.com | All Rights Reserved | Terms of Service | Site Disclaimer | Privacy Policy