Resume Sample Waiter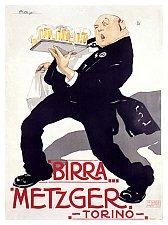 Here's a Free Resume Sample Waiter That's Dressed for Success!

A Free-Resume-Sample Waiter, will probably be a good fit for Males seeking food service wait staff work within fine dining and/or sports-oriented establishments.
In many cases, your resume-sample-waiter example may hit a brick wall...why???
A Restaurant owner may simply prefer a female; the fear is that, "A Man is between work...is looking for something better."
If your passion is to Wait Tables, whenever and wherever, then use this free resume sample waiter example as your springboard to success.

In the words of the infamous British Prime Minister,
Sir Winston Churchill, "We shall NEVER Quit...
We shall NEVER Surrender..."
Your resume sample waiter communicates, You Shall Never Quit!

What Other Visitors Have Said
Click below to see contributions from other visitors to this page...

Want your Dull resume sample waiter or Non-Career to become Alive? Rely upon LiveCareer for Free and Powerful Career Assessment powered by the Greatest Minds of Today's Higher Education Industry. You see, a simple resume, or a make a free printable resume will no longer...

Professional Waiter Resume Example
--Introduction Resume Sample Waiter Template--
Brad Pitt
Wall St
New York, NY
(917)508-6437
Email address
eResumes4Vips
Objective
Seeking a Challenging position as a Waiter within a French Restaurant Dining Experience Establishment.
Summary of Qualifications
Performed food preparation duties such as preparing salads, appetizers, and cold dishes, portioning desserts, and brewing coffee.

Wrote patrons' food orders on order slips, memorized orders, and entered orders into computers for transmittal to kitchen staff.

Checked patrons' identification in order to ensure that they met minimum age requirements for consumption of alcoholic beverages.

Served food and beverages to patrons; prepared and served specialty dishes at tables as required.

Brought wine selections to tables with appropriate glasses, and poured the wines for customers.

Prepared checks that itemized and totaled meal costs and sales taxes.

Experience
Your Employer #1, (Start Date to Present)
Your Employer #2
Job Type, (Start Date to Present)

Education
Wharton Business School, Master of Business Administration (MBA)
Financed 100% of college education through part-time work as a Short-Order Cook.

Grade Point Average (GPA)
Make More Money by Becoming a Bartender
Guard Your Resume Privacy & Protect Your Security
Resume Sample Waiter to Home Page