Aircraft Mechanic Resume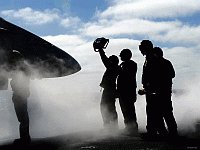 A Skillful Aircraft Mechanic Resume is a 747 in the hands of a Highly Qualified Aviation Mechanic.
Moreover, without the ground crew, planes don't fly!!!
What Other Visitors Have Said
Click below to see contributions from other visitors to this page...

A Highly-Specialized Technical
Aircraft Mechanic Resume Sample
Aircraft Mechanic Resume Profile
•Aircraft maintenance specialist with 20 years Military experience of aircraft maintenance management, production improvement, and quality assurance.
•Technical expertise with automated management systems, maintenance forms, aircraft records, and reports documentation. Numerous Job citations for million dollar savings within aircraft component repair.
Experience Inspection & Supervision
•Recognized for developing a worker task training program that increased qualification levels and quality assessment verification pass rates by 15%.
•Direct responsibility of 10 maintenance personnel for the successful 400-hour technical and isochronic phase inspections of 21 tactical jet and reciprocal engines to include the C-130 aircraft.

--End of Aircraft Mechanic Resume Sample--
Quality Assurance
•Activity coordination of 3 department managers supporting 6 (USAF) air fighter squadrons and 2,000 aviation personnel.
•Product quality deficiency, aircraft configuration control, and technical data reporting analysis resulted in an annual $500,000 saving.
•Initiated a $4 million saving program by scheduling an Electronics Warfare Aircraft (classified) for 6 critical repairs while serving as Product Improvement Manager.
•Identified a cost avoidance of $250,000 per (69) aircraft through the repairing of a fighter jet weapons maintenance tester circuit card.
•Presented and received authorization to locally repair fighter aircraft's integrated drive generator (IDG) caused by internal component thermal breakdown. Total savings of $2.3 million dollars (USD).
•Selected as #1 squadron flight line expeditor for exceeding production goals over a 24 month period.  
Special Recognition
•Awarded US Department of Defense (DOD) Meritorious Service Medal for Superior Aircraft Maintenance Data Compliance.
•USAF Bronze Star; exceptional flight operation maintenance management in support of Operation Iraqi Freedom.
•Medallion (Coin) recipient, Secretary of Defense (Donald Rums field), tactical support (Top Secret).
Security Clearance
•Top Secret (USAF)
•Secret, Low I (DOD)
•Protocol Level Alpha (Special Ops)
Education
•Bachelor of Science (B.S.), Aviation & Aeronautics, U.S. Air Force Academy (USAF), Colorado Springs, Colorado.
•Certificate of Completion, USAF Senior Airman Training Academy, RAF Mindenhall [United Kingdom, UK-England].
Guard & Protect Your Resume Data
Aircraft Mechanic Resume to Home Page