How-To Discover Life, Joy, and Love via the R.V.-ing Way
by Alan Hickman
(Lake Charles, LA)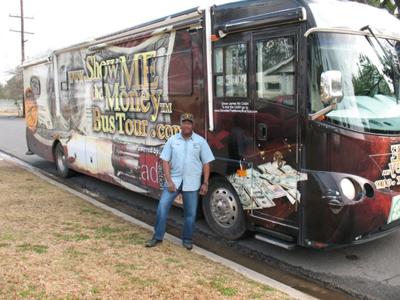 Alan Hickman, Pine Grove RV
The joys of RVing is the adventure of a lifetime. It is designed for the entire family...both large and small.

There is nothing on Planet Earth, like the open-road -- with all of your worries behind you. More and more, you will find a growing group of people, that call themselves, Full-Time RVers.

The Full-Time RVers Profile

Usually, Full-Time RVers are retired couples that travel around the country...soaking up the sights and sounds all across America. There 'Ain't No Schedule' to keep. Nothing to tie them down.

RVing is an Awesome Experience! You can have the best of two worlds -- Camping and Sightseeing -- with all the comforts of home.

Creature Comforts

Take the kids on a weekend camping and fishing trip; they're sure to enjoy that. Sleep with the comforts of a Soft Bed. Enjoy HOT water to take a shower...and cold running water for refreshing one's self.

Or how about cooking your own food on a open fire -- or the stove within the RV. Watch your favorite programs via Satellite Dish Television (flat screen LCD, no doubt). There are plenty of great, affordable satellite dish deals for your RV and they make traveling seem like being in your living room.

Last but not least -- the Ladies Love having an Indoor Boudoir (toilet, for you real-woodsy-purist-campers).

One can never imagine the joys of RVing until you have hit the road. Want to learn more about RV parks and lifestyle, then visit my website, PINEGROVERV.COM to learn all about this wonderful way of living.
==================================================
Alan Hickman, is the Owner and Proprietor of Pine Grove RV Park, located in (Picturesque) Lake Charles, Louisiana. Alan walks the walk and talks the talk by permanently residing in a (luxurious) RV with his wife.

A (former) Career Military Musician, Percussionist & Drummer, and Entrepreneur, Alan enjoys keeping up with his friends on Facebook. Next time you're down in the Lake Charles, LA area, drop by Pine Grove RV Park. Alan will gladly give you the Grand Tour.