Resume Writing Book
The Greatest Resume Writing Book of all time just doesn't exist. There are several great resume books out there--both hardback as well as digital ebook yet...there is no one size fits all.
Moreover, in addition to the great resume info available here at the eResumes4Vips-Whats-New-Blog, you really need to dive into at least one or two resume book resources. After all, spend a little money and get a job. Save money and maybe you won't...I think you get the message.
---
Great Resume Books
If I were to select ONE SINGLE resume-writing-book from among the many, I'd pick...
What Color is Your Parachute isn't a resume book per se, the whole career introspection concept has become a timeless job hunt resource. Great book!
Next, I'd take a look at either Resume Magic or The Dog Ate My Resume. But don't judge simply its slick cover.
Your challenge is to gather a little hear...and a little there. Is a resume-writing-book really necessary? Not really--yet having a job isn't really necessary if you don't care about having enough to eat or having a place to lay your head.
Seriously, one can get by without purchasing a resume book. Yet you be the judge...take a look at the resume writing book collection to follow on this site-page and decide for yourself.

More Resume Creator Resources
---
You and I both know how really tough it is to put together a Job-Winning resume. Reading a resume-writing-book is one thing, but getting it done is another.
That's why eResumes4Vips, right here on this home page, is giving my
recommendation to the following three professional resume products and services. Amazing Resume Creator, Winway Deluxe, and Pongo Resume are among the professional resume industry's best.
A full desription of each product can be found here... or simply click on the graphic images to read more...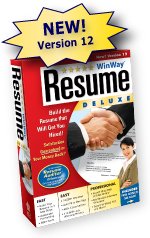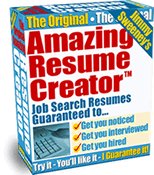 Resume Writing Book to Home page